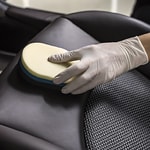 We love our furry friends, but pet hair can make quite a mess in our vehicle. If your pet loves to take rides with you, Gillman Honda Houston has some tips that will make car detailing with a pet a simple process.
Utilize a blanket or pet mat on your seat or in your trunk. This will prevent pet hair from getting all over your seats. Simply remove the covering and wash it when you get home.
Keep a lint brush or a roll of tape handy when you head out with your pet. You may need to clean yourself up a bit when you get to your destination.
You can keep your pet in a crate in the rear of your vehicle. This helps control pet hair, but this is also the safer option for your pet while your vehicle is in motion.