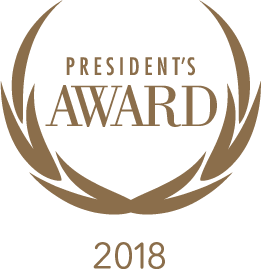 Being Houston, TX Honda dealers, we're thrilled to tell you that our Honda dealership has been honored with a President's Award from the Honda brand. This coveted award is only given to Honda dealerships that excel in certain areas.
To earn a President's Award, a Honda dealership must be excellent in its execution of sales and service. The dealership must also provide an outstanding customer service experience. The dealership must excel in its business operations as well.
"We are pleased to honor Gillman Honda Houston with our President's Award which recognizes Honda dealers who achieve excellence in all aspects of their sales and service operations," said Henio Arcangeli, Jr., senior vice president of the Automobile Division for American Honda. "Nothing is more important to [the] Honda [brand] than taking care of our customers and Gillman Honda Houston helps set the standard for customer care."
Whether you're interested in a 2019 Honda Odyssey or another Honda model, you'll enjoy an unparalleled car buying experience when you do business with us. If your vehicle needs some routine maintenance or a repair, you will be treated like royalty when you bring your automobile into our Honda service center near Katy, TX.
Whenever you visit our location, you'll feel comfortable in a welcoming environment that's well-maintained, clean, and safe. From our service drive to our showroom, waiting area, bathrooms, and more – every space on our property is expertly maintained with the comfort of our valued clients in mind.
We're extremely proud of everyone who helped our Honda dealership win a President's Award, and we want to thank everyone involved. And that includes you, our customers. Just like we couldn't have earned this award without the hard work and dedication of our staff, we couldn't have won a President's Award without our clients. Thank you all for helping Gillman Honda Houston earn a prestigious President's Award!