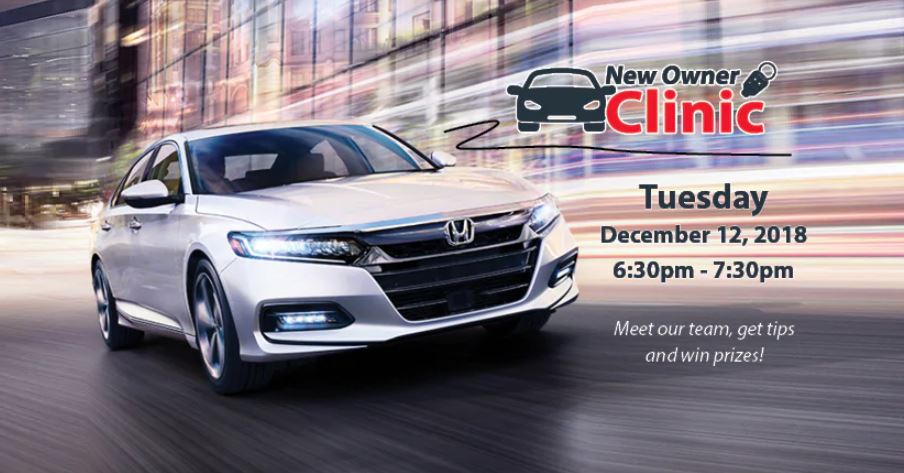 When you buy a new car like a
2019 Honda Odyssey
it's absolutely thrilling, isn't it? While purchasing or leasing a new Honda vehicle is certainly exciting just like buying a pre-owned Honda model is, having a new or new-to-you automobile can also be overwhelming. Quite often, that's because modern vehicles have so many features.
Having been a Honda dealer near Sugar Land, TX for years, we never want a motorist to be intimidated by their Honda vehicle. We want our valued clients to feel appreciated and right at home in their Honda cars. That's why we host Customer Appreciation and New Owner's Clinics on a regular basis.
Our next Customer Appreciation and New Owner's Clinic is scheduled for Wednesday, December 12, 2018. The event will kick off at 6 pm with yummy refreshments. The clinic will start thirty minutes later. During our clinic, you'll enjoy a showroom presentation about your Honda vehicle.
Over the course of our Customer Appreciation and New Owner's Clinic, you'll be invited to join us for a tour of our
Houston, TX Honda service center
as well as our Honda parts center. We'll even give you the chance to get a close look at your Honda car in our state-of-the-art Honda service center, which can help you understand how your vehicle works even better.
One of the things that can help you have confidence in the work that your vehicle will need over the course of its life is knowing the people who will perform maintenance and repairs whenever your automobile needs them. You'll have the chance to meet our factory-trained technicians and the rest of the people who work in our Honda service center during our upcoming clinic, and they'll be happy to share some tips about your Honda vehicle.
Contact
Gillman Honda Houston
to reserve a seat in our next Customer Appreciation and New Owner's Clinic now!